Citrus Valley star is athlete of the year
By JOHN MURPHY Sports Editor May 19, 2022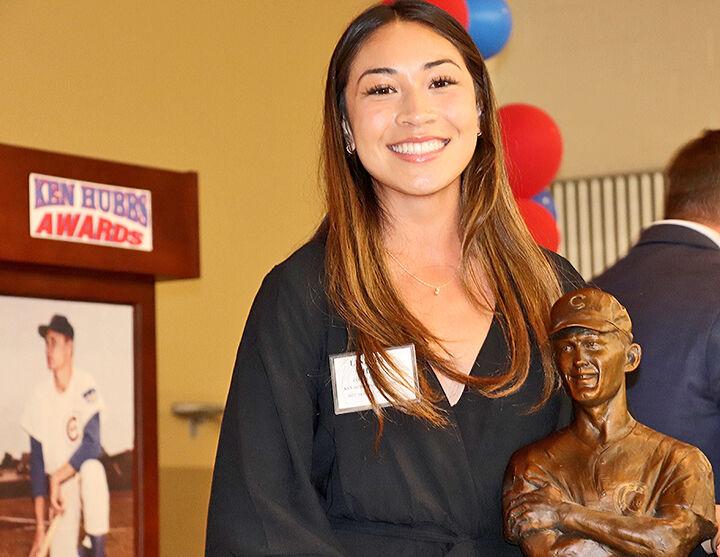 SAN BERNARDINO — The prestigious Ken Hubbs Awards returned this week, taking place in person for the first time in two years. The event was not held in 2020 and 2021 due to the coronavirus pandemic.  
Two athletes apiece from 26 schools and their parents, friends, and school personnel gathered at Indian Springs High for the 58th awards.  

The program began in 1964 to commemorate the late Ken Hubbs, a Colton High four-sport athlete and student body president. Hubbs became Rookie of the Year and set fielding records in 1962 with the Chicago Cubs.

He died tragically in an airplane crash near Provo, Utah two weeks before spring training in 1964.

"He was a super cool guy," said Citrus Valley High soccer and track and field star Lindsey Chau who was the overall girls' Ken Hubbs Award athlete of the year honoree. "His accomplishments were amazing in multiple sports, but he also had sportsmanship and was a great person and to be compared to him is really something."  
Artifacts from Hubbs including his Chicago Cubs' baseball jersey, his baseball gloves and bats were on display. Blue and red balloons (Cub colors) formed an arch over the stage where the awards were announced.
Chau led her Citrus Valley team to unbeaten Citrus Belt League seasons as a junior and senior. She was named the outstanding offensive player in the CBL as a junior and senior and scored 30 goals as a senior. The University of San Francisco-bound soccer star also won the 100- and 200-meter dash at the recent CBL track and field championships.
The Hubbs award stunned Chau.
"I was surprised, but I'm super excited," she said. "It's a huge honor and I never expected this. I was sitting there, and we were saying, 'Who do you think is going to win?'''
The overall boys' Ken Hubbs winner was track and field superstar Seth Johnson of Cajon High. The University of California-bound Johnson, at last week's CIF-Southern Section Division 1 meet, won the high jump with a leap of 6-foot-6 (he has done 6-9), nabbed second in the 110-meter hurdles and was a part of both of Cajon's outstanding relay teams.
Johnson thanked his parents and conveyed how important God is in his life.
Individual school winners from Redlands besides Chau were Alice Kok and Garren Zakarian of Arrowhead Christian Academy, Jared Snyder of Citrus Valley, Kathryn Thompson and Erwan Friche of Redlands High, and Shannon Cockerill and Luca Smith of Redlands East Valley.   
Each school winner received a specially designed Ken Hubbs watch. Overall winners Chau and Johnson received commemorative busts of Ken Hubbs.  
Cockerill was impressed after watching the short movie about Hubbs' life.
"It was amazing," she said. "To see the type of person he was — he didn't smoke, he didn't drink, he was an honor student, he led his team.
All those things made him an amazing person. He just said, 'I don't need to party. I don't need to be like everyone else. I can just be myself.' That was the most amazing thing to me."
Pacific High's multi-sport star Miranda Owen earned the Keith Hubbs Award.
The late Keith Hubbs was Ken's brother. The award commemorating Keith is for outstanding character.
Owen overcame significant personal obstacles — including the death of her father last year — to shine in athletics and in school.  
"I was in shock," Owen said of winning the award. "I think it just shows that good things we'll come your way if you have the drive and the discipline and motivation to push through it.
"You can be sad (at times) but you have to make sure to move forward and try to be happy. With my dad, I have the memory of him and what he taught me, and I'll just keep using that to move forward and be the best person I can be."